The Dreslyn — a online fashion retailer guided by designer Brooke Taylor Coreia's West Coast sensibilities — has added a flagship Tarot deck to its accessory line.
The Dreslyn Tarot, as realized by artist Kati Forner, is a minimalist deck, with simple lines and geometric figures representing the energies of each card. The King of Wands, for example, is rendered as an upright line with an angular line (suggestive of a crown) above it. The Eight of Wands borrows from Pixie Smith's illustration, reducing it to eight thin, angled lines that recall Ms. Smith's flying staves. The Hanged Man is a simple circle, depending from a simple line. The Death trump is brilliant!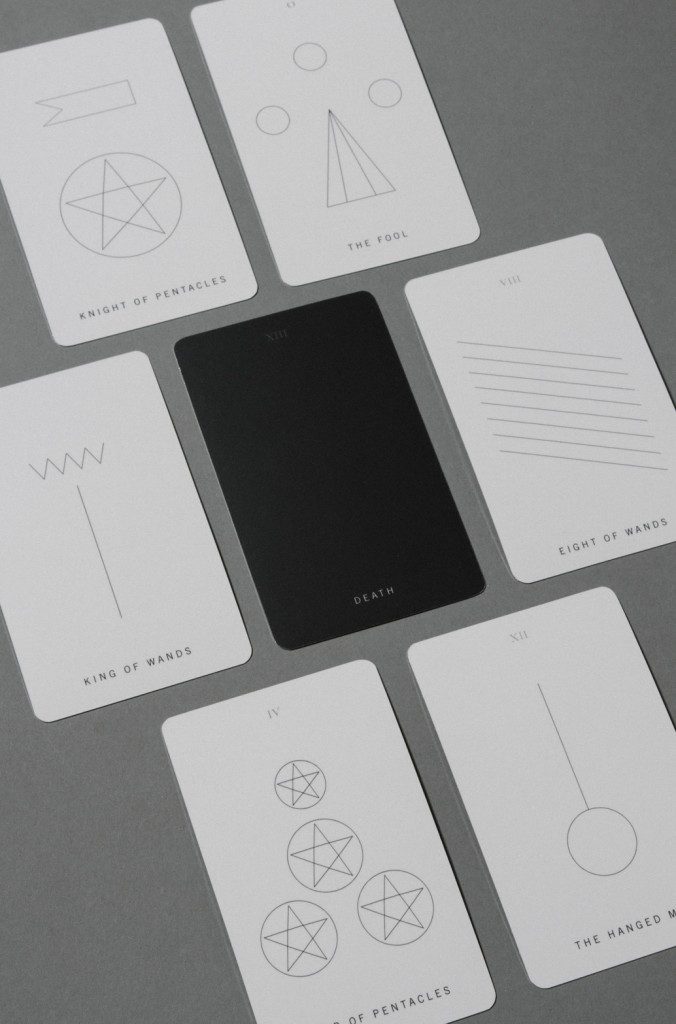 The illustrations are thoughtful, appropriate, and evocative; if you're familiar with any Tarot deck at all, you'll be able to read these cards like a bandit from the first time you encounter them. The deck is also beautifully manufactured (with silver foil edges, silver accents on the card backs, and a snug black storage box), and comes with a thin (but adequate) little black book.
At $95.00, this one strikes me as a steal. Get yours now.
Update: I received my Dreslyn Tarot within a week of ordering it. It's packaged beautifully. Even the receipt (and handy return postage label — not that you'll need it!) comes stuffed in a slick, black envelope. The deck was wrapped in tissue paper. The book — larger than the deck, with basic info, basic meanings, and images of each card — was secured to the box by means of a thin black cord.
The card box itself is a bit flimsy — not the heavy cardboard I hoped for — but the cards themselves are of sturdier stock, and should hold up well, even with frequent use. A flake or two of silver foil has already come off the backs of two cards, but the foil edging seems secure.
These cards are at their very best when the minimalist illustrations are inspired by Pixie Smith's artwork for the Rider-Waite-Smith Tarot. One small complaint: while many decks use Roman numerals for the Majors (I, II, III) and Arabic numerals on the Minors (1, 2, 3), this deck uses Roman numerals for both. Especially when the art is minimalist, following convention might have made trumps faster and easier to distinguish from suit cards.
Still: a very successful deck, and one I'll enjoy. Recommended!
Note: All images in this post, created by TJ Tambellini and Ian Flannigan, are taken from www.thedreslyn.com. Their use here is strictly to promote awareness of and interest in the product, and, in using them, I make no claim of ownership or intend no infringement of any kind. If there are concerns about the use of these images, please contact me.