On weekends, Bangkok folk flock to Koh Kret — an island in the Chao Praya — to feast on traditional treats and shop for pottery made of the island's distinctive clay.We do our fair share of eating and shopping, too — and then, sandwiched between a sweet shop and a soup bar, I spy the tidy stall of the local Tarot reader.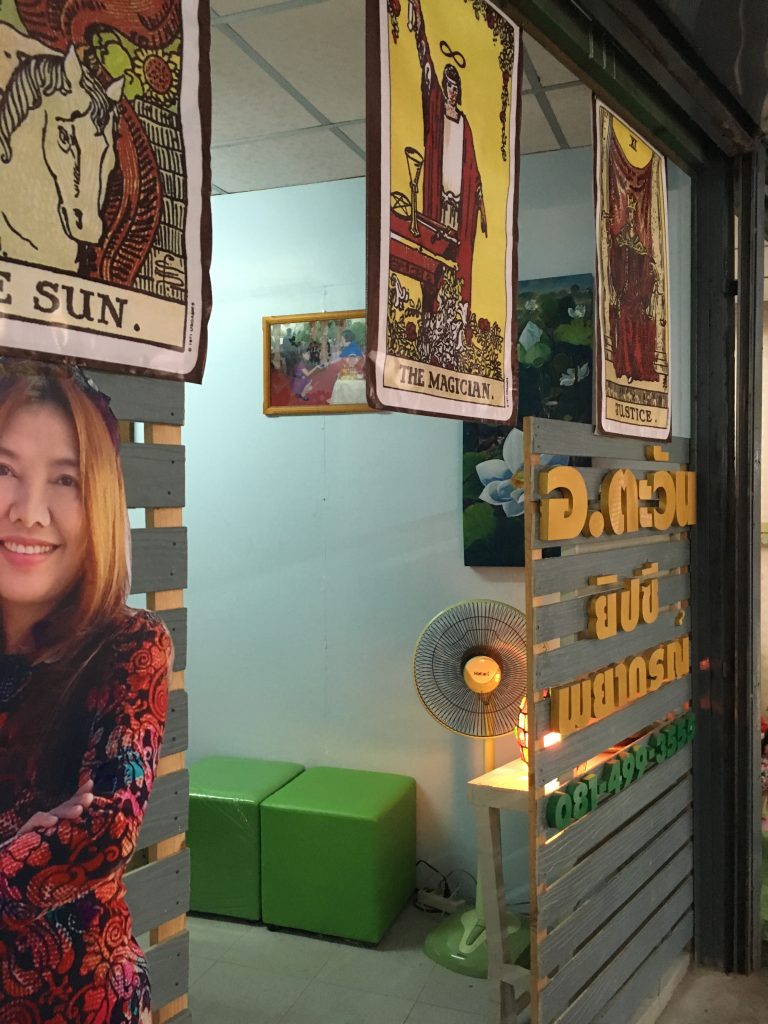 In Thailand, where divination is usually more a matter of tossing sticks at the local temple, Tarot reader readers remain fairly rare. So: it's a pleasure to see a shop decorated with photos of Pamela Coleman Smith and cards from the Rider-Waite-Smith Tarot. I grab Clyde, enlist our friend, Bobby, as a translator, and I plunk down my 120 baht (about four bucks) for a Tarot reading.
Our reader is a sweet-spirited young woman who takes her craft very seriously. She asks my name, allows me to cut a worn U.S. Games "roses and lilies" motif Rider-Waite deck, and then fans out the deck, asking me to choose ten cards.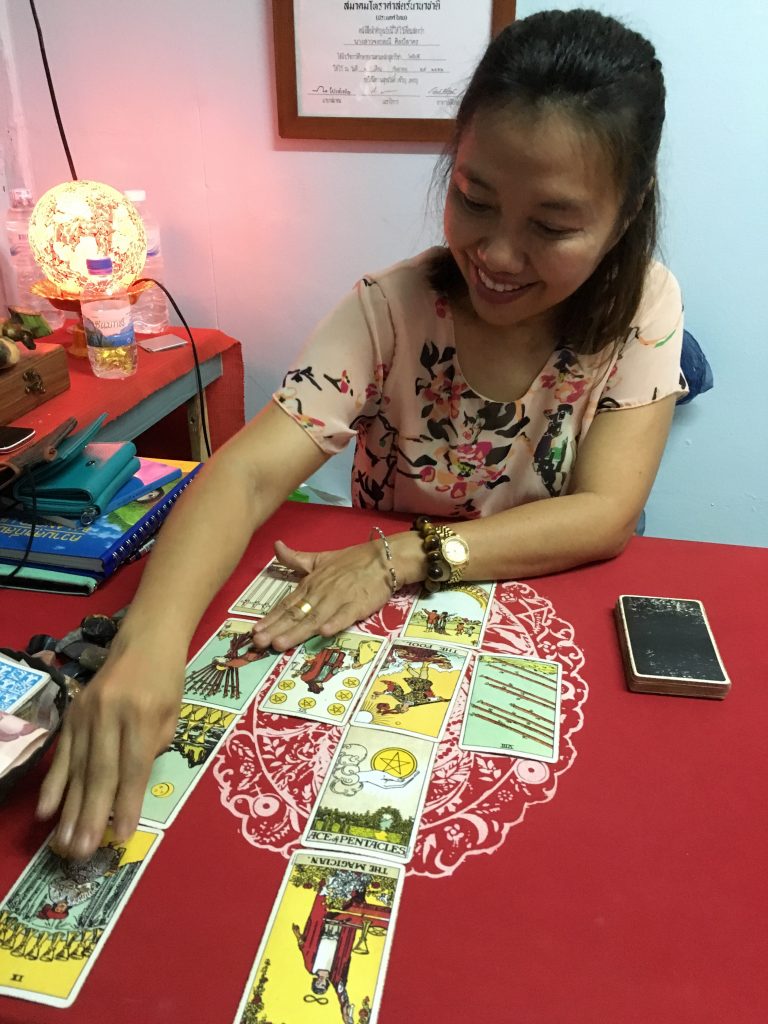 My significator — the card that represents me — turns out to be the Magician. "You are a creative professional," she says. "You make a living with your wits, your ideas, and your words."
Clyde — the skeptic — raises his eyebrows, but says nothing.
From there, she moves through the spread, drawing on traditional meanings and her own intuition. "You love travel," she says — not a difficult guess, given that I'm an American in Thailand — "and you have a special passion for it. In fact, one reason you work so hard is to support the travel you want to do."
"Things are going well for you," our reader says, "but at work, you are too busy — mostly because you try to do everything yourself. You have problems trusting other people enough to delegate things to them. You must learn to talk to your employees and trust them more."
(One of my goals for myself this year at work? Delegate more, and trust my team to handle things I have normally handled myself in the past. Again, Clyde raises his eyebrows.)
"You have a health problem," she says. "High blood pressure. But the answer is easy. You just need to exercise more."
Clyde's looking pretty shocked, now.
"And — she giggles a bit — "you spend too much money."
At this point, Clyde's look like he's been converted from skeptic to true believer.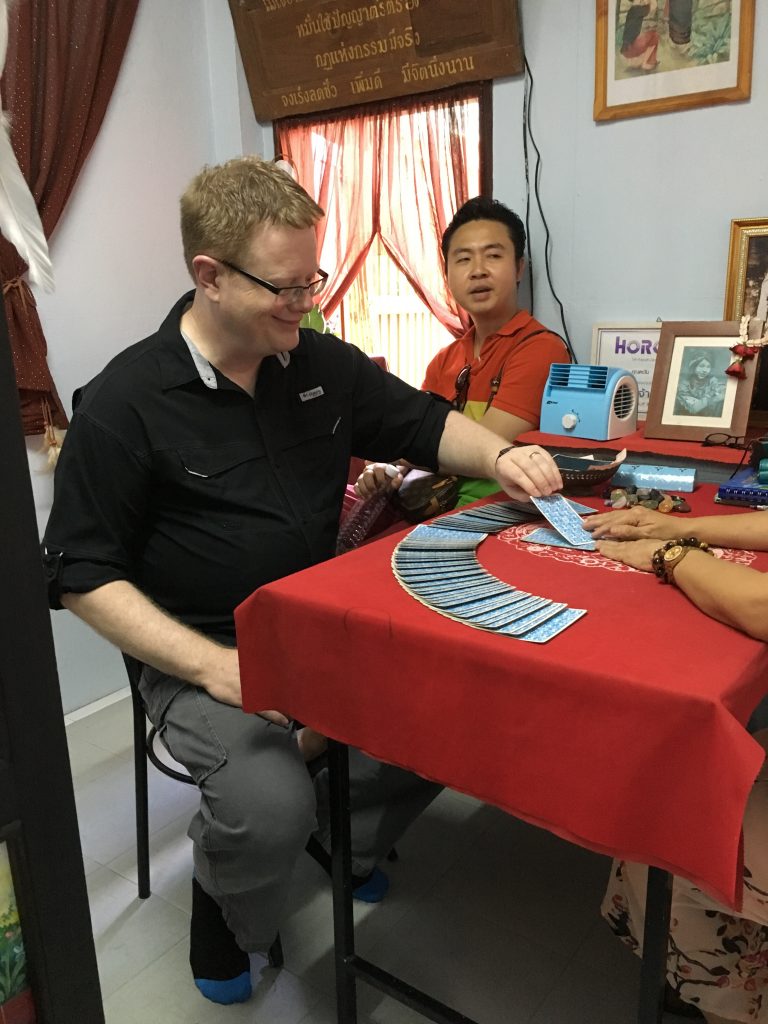 She invites me to pick one more card from a battered copy of the trumps from a Universal Waite deck. With this, plus a stone picked out of a pile (a tiger's eye), she tells me I've got another job opportunity on the horizon (and, in fact, there is an offer in the air) — but that I should turn it down, because, if I go there, I won't have any time at all, I'll be working all the time, and I'll regret it.
In short: she's spot on — a remarkably good reader. (The folks at the Astrological Association of Thailand, where she took classes, must be doing great work.) As someone who can spot a cold reader from a mile away, it's good to come across a young woman who is actually reading the cards … and doing a very fine job of it, too.
After I introduce myself and mention my work with the cards, we snag a quick photo together before parting ways.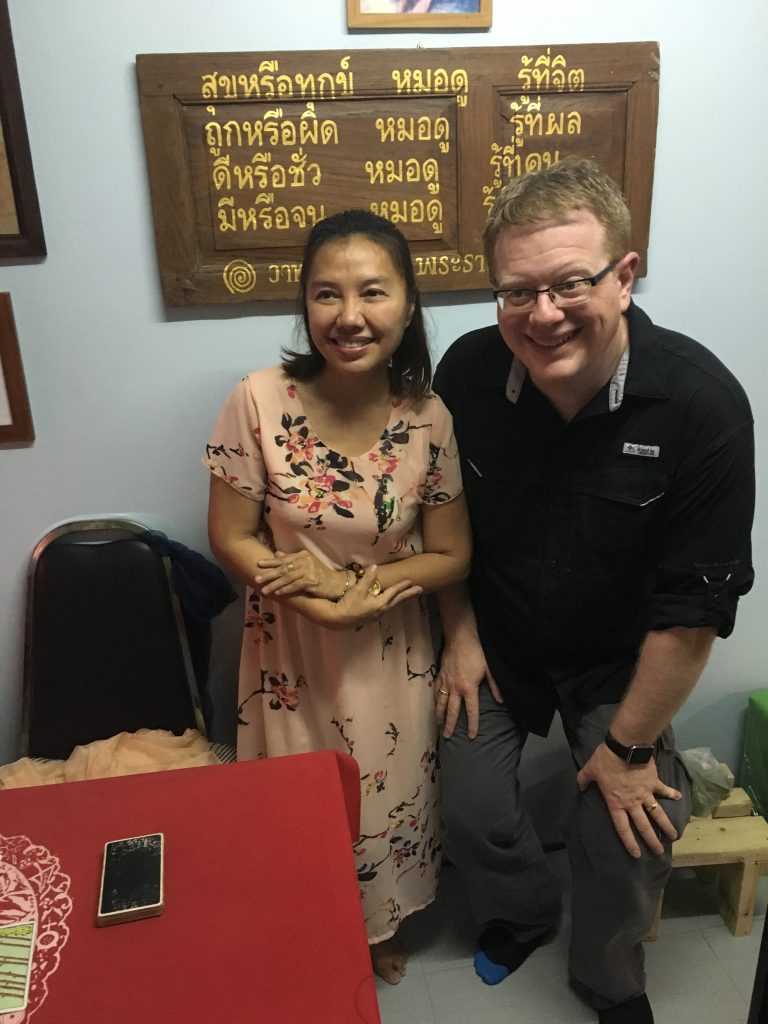 If you're visiting Koh Kret, why not take a quiet break away from the madness of the food stalls and pottery shops and get a great little Tarot reading? (Unless you speak Thai, you'll want a translator.) Highly recommended.